About The Event-
Association of Hair Restoration of India organised Haircon 2018 in Mahabalipuram, Chennai. The theme of the event was "Hair Restoration Beyond Extraction" and the purpose of the event was to provide the knowledge of novel techniques, uniques approaches in specific treatments, uses of new or existing technology and getting new insight to hair treatment, diagnosis, practices of hair restoration.
The theme of event "Hair Restoration Beyond Extraction" would help the guest in understanding the fundamental phenomenon that hair restoration is not just about hair follicular extraction or strip surgery but delivering artistic results.
Purpose of Visit-

The purpose of our visit to Haircon 2018 was to introduce new aspects of hair restoration to my knowledge. Some of the most famous hair surgeons delivered their speeches and presentations to give insight to new implementation to hair restoration treatments. How the new technologies mixing up with artistic hands provide decent results to patients.

New Things We Learnt There-
"Graft Management"
Look, there is an important factor before we go for any surgery is the precise assessment and management of donor area and designing the planning of the recipient area by taking a long-term process into the consideration.
Hair transplant graft calculator and other techniques were taken into consideration how they can be used in the calculation of hair grafts area and optimising the surgery results.
"Robotic Implanters"
There were other presentations of how we can make better use of the microscopic instrument and advanced robotic implanters for advancing the results.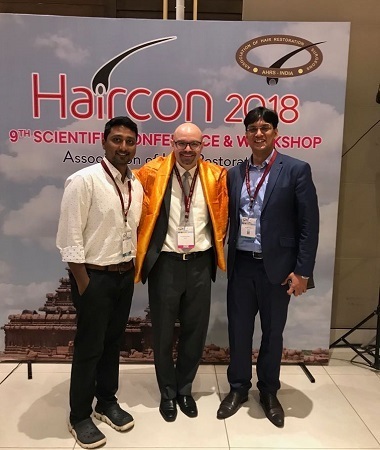 HOW HAIR TREATMENTS CAN BE IMPROVED USING THOSE THINGS-

In Hair Graft Management it is important to calculate and measure properly that what amount of hairs to be taken from the donor area and where to transplant them. Technology can help us performing proper measurement of scalp area and building a suitable planning.
The latest implanters are a big help in hair surgery. In FUE using implanters hairs are extracted and planted on scalp area. Latest Implanters with artistic hands prevents the hair fallacies from being destroyed and improve the transaction rate of surgery.

HOW CAN THESE THINGS BENEFIT THE PATIENT?

Patients what expect is "results". All the things we learnt there is an advancement in our treatment strategy making. Now we have an idea of new equipment, technologies and knowledge provided by most famous faces of hair restoration world. Everything would be implemented in hair treatment procedures and it will provide results better than before.

MEETING WITH FAMOUS CELEBRITY/ DOCTOR

We got a chance to meet Dr Tommy Hwang who is world renowned hair surgeon from Korea and Dr Steven Gabel who is a board-certified in Facial Plastic and reconstructive surgery and in Otolaryngology.
HairCon is one of the major events held in India for the purpose of exploring worlds innovation in hair restoration technology. It's important for hair surgeons to attend such events so they can implement this knowledge to their practical treatments to maximize the results. Dr Amit Porwal is a famous face in hair restoration world and lead Marmm Klinik for hair loss treatments. The knowledge taken from the event is useful and soon he aims to implement for better hair surgery results.