Marmm Klinik is a leading name in the aesthetic field and helping the individuals in attaining charming body contours and trending hair looks using most advanced techniques of cosmetics and hair treatments. At Marmm, doctors utilize the latest technology to maximize the results and deliver satisfaction to customers. Marmm has already established its essence in Delhi, Bhopal, Indore and now looking forward up to Mumbai for instituting and advancing all the major Cosmetic Treatments.
The Key People Leading Marmm
Dr. Amit Porwal-
Dr Amit Porwal is an honoured name in the aesthetic industry. He has completed his medical degrees (B.D.S, M.D.S.) from Indore. He has taken a facial plastic surgery fellowship from Bangalore & laser treatment training from Spain. His vision was to establish world-class cosmetic treatment facilities in Indore So he did it & now looking forward to providing in all major cities of India.
Association Memberships​– "A.H.R.S India", "A.O.M.S.I", "S.O.L.A", "I.A.O.M.S" and more.
Dr. Mithilesh Mishra-
One more eminent name of the aesthetic world. Dr Mithilesh Mishra is an M.B.B.S, MS, MSC and MRSC (England). He has done a fellowship from Hospital Universitario Puerta de Hierro, Madrid (Spain). He is a Micro Vascular & Plastic Surgeon who has performed 400+ cosmetic procedures and more counting.
Association Memberships– "A.P.S", "I.A.A.S", "A.H.R.S.I", "A.S.I", "A.A.A.M" and more.
Vision For Mumbai

Beauty is the essence of every human soul.
Beauty is not just a word but a business rich meaning with a wider perspective. Beauty enables individuals in expressing themselves and gaining more confidence and open up to others. And cosmetic treatments are a mid-way to it. For a decade we have devoted our efforts and competencies to build and create an Aesthetic Place where all the Cosmetic Treatments could be provided under one roof. We had started from Indore and our journey led us to Mumbai. Marmm is all set to become a Central India's best cosmetic clinic ​to deliver world-class facilities at minimal prices that can enhance the virtual beauty of individuals. The vision follows us everywhere and set for Mumbai region too.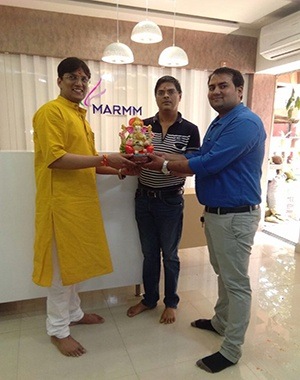 What Differentiate Marmm From Other Clinics?
All Treatments Under One Roof

Yes, Marmm provides all the major cosmetic and hair treatments at single place. Our services include cosmetic surgery, hair transplant, skin treatments, dental treatment, breast surgery, laser hair removal, weight loss, liposuction, tummy tuck, rhinoplasty and more.
Team Of Most Experienced Surgeons

Marmm is a place where you will find all the type of cosmetic surgeons at one place. We meant to say " Team"​. Because we work as a team. For Better understanding look at the example- A patient is facing hair loss issues and looking for hair transplant. At Marmm from our team, a hair specialist will examine the patients as well a dermatologist (the skin of the scalp would be examined by him) to get the idea of issue. There are chances person facing any skin issue. Like this, we provide the best available treatment. We have the best plastic surgeon, dermatologists, hair specialists, dentists in our team.

MOST ADVANCED TECHNIQUES AND EQUIPMENTS

We have an ambitious team of doctors who are devoted to their work and society. Doctors of Marmm have years of experience and using most advanced cosmetic techniques and latest machinery, they deliver desired results to patients.
SOCIAL RESPONSIBILITY

The team of Marmm is aware of responsibilities respecting the society as well. For fulfilling that we conduct dental awareness, hair and skin camps. We deal with trauma cases of labours and workers at very nominal cost. We have also a charitable find that is raised and later used for social community purposes. In Mumbai, our vision for society is same as other places.

Any Special Offers At the Opening.?
50% off on consultation of all cosmetic procedures
Free consultation for females (All major cosmetic treatment- Liposuction, Nose surgery, breast surgery, laser treatment).
Special offers on all festive occasions.
Check Our New Clinic Websites